Students must complete online assignments at www.vhlcentral.com by the syllabus deadlines.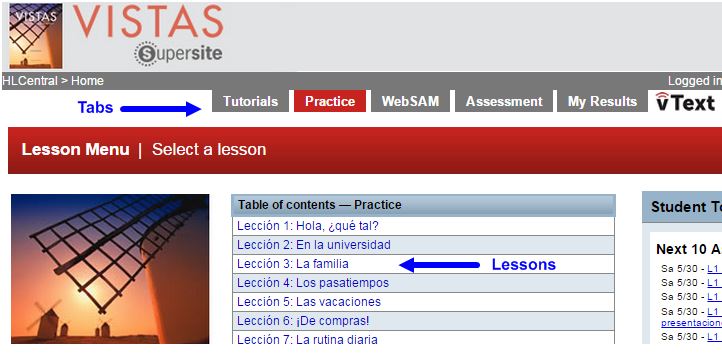 Top. You will see each chapter/lección listed at the left. When you click on each one, you will see the tabs in the top center "Tutorials," "Practice," "WebSAM," and "Assessment."
Top. Before each class, go to your Tutorial tab, select the lesson, read the flash cards, and listen to the tutorial of your virtual Professor in the Estructuras section. Read the content in the Vistas text or in the vText for each section in which work is assigned.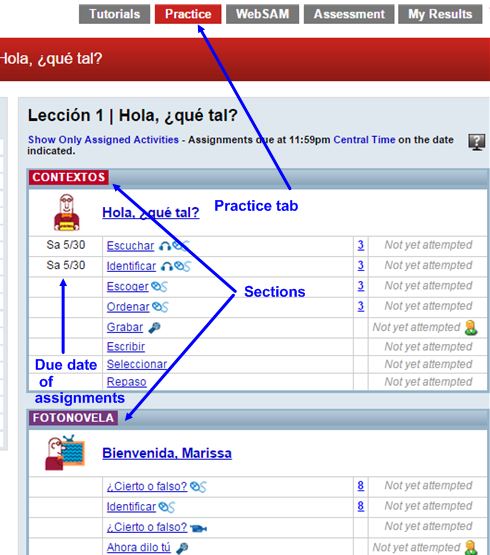 Top. When you feel ready, open the Practice tab and do the exercises assigned. Make sure to scroll down and review all sections (Contextos, Telenovela, Pronunciations, Cultura, Estructura, Adelante, Panorama) because you may have assignments in some of them.

Top. Finally, the last tab, Assessment, is where you'll take your test for all of the chapters your professor makes visible online for specific dates and times for chapters 1, 2, 4 and 5. When doing your assignments, you must click submit for each exercise that requires input in order for your work to be recorded. Also, you should do activities in sequence and not skip around.
For the midterm and final, there will be specific date and time information available. You'll need to go to the proctor institution you select to take them.